Quest 2018 Leadup
Dec 14, 2017
How do I start? I'm new to this whole blogging thing. I mean, I journal, but this is a little more formal, is it not? Anyway, onto the post!
I was scrolling through Facebook one fine October day, when I came accross Quest 2018.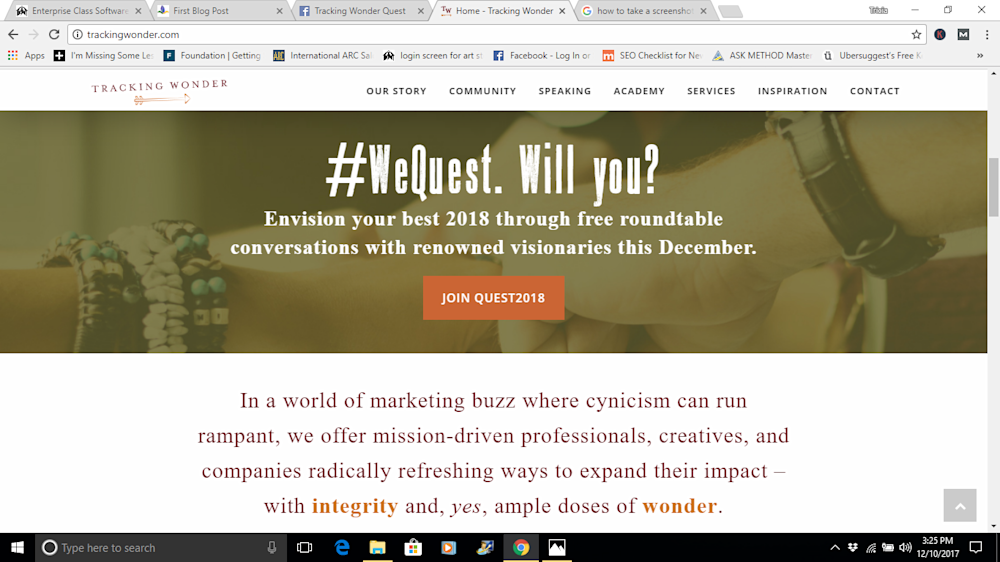 ...Sounds intriguing! So, of course I clicked it, and it led me to the website http://www.trackingwonder.com and a pledge to do 4 weeks of deep planning for my best year ever! A totally new, and creative way to approach goal setting and manifestation!!!
So! I signed right up. There was a lead up question, which I will post here....
Imagine your best possible self at the end of a year from now. In this case, imagine you are in December 2018 looking back upon how you have shown up for 2018. See yourself in a specific place as if you were looking back upon the year: maybe a favorite chair, a deck or balcony, a mountainside.

As your best self "looks back" upon the year (2018), reflect upon and write in intimate detail your response to these questions:

How have you shown up for your best work? What kinds of distinct activities have you been engaged in? What have you been making or creating as part of your best work?

Who have you engaged and how has your work positively impacted them?

What have you done differently that has stretched you?

What 1, 2, or 3 big goals have you reached?

In the process, what challenge has your best self met and how?

What skill set or craft did you learn or improve upon?

What 1 habit did you add, adjust, or drop?

And overall, how have you felt throughout the year when you're engaged with your best work?
So. Here's my response. It's December, 2018, and I'm looking back on a year I loved. I painted every day, and created some of my best work yet in art. I am excited to know that will continue, I have gained enough skill to truly start exploring my artist's voice, and I am supported by my art. I became a master Poi spinner, actually got to attend the Levithian Poi retreat. I have broken through the financial difficulties which have plagued my life, and made a comfortable amount of money from my art and other endeavors, and it shows no sign of stopping. Friends surround me, authentically loving me exactly as I am, encouraging me. My kids are happy, we moved into a 3 bedroom house out in the woods with a yard and a pool, and I'm looking at plans to start a yard wide garden! I replaced massage therapy with coding, and through that was able to create a stable foundation which continues to serve me now and in the future.
I have engaged many people with my art. People report that seeing my art helped them face their day, gave them strength and courage, or comfort. My best work helps other people live better! Being surrounded by art helps people live better!
What have I done differently? I stopped scrolling through social media all the time (it's so easy to do on your phone! Got a min? Start scrolling! Those times add up!). In order to combat the challange of connection, I delibrately sought out and maintained a connection to new people and old friends.
The biggest goal I have reached is building up my art business, and being paid for paintings. Another big goal I have reached is the poi spinning. I've been spinning poi for 10 years, but progress very slowly because of lack of consistent practice! That changed this year. The third big goal I achieved is replacing Massage Therapy with Coding/Web Development. I had originally started learning coding in order to put my art website up, and found that I liked doing it, and that it was a valid replacement for MT, which is great, but my body is starting to complain after 15 years. This was a chalenge, the biggest challenge, because it seemed to be at odds with painting. Every time I would start to replace this, I would face a focus challange, where is my energy going? I solved this excellently.
In order to do meet those challanges, I had to increase my skillset for painting/drawing, and for coding/web development. That's a whole list of stuff that I had to take one bite at a time. The beauty of these things is that I have not exhausted those skill sets at all. There is always more I can learn.
I had to drop procrastination, distraction, and reaction. I could not carry those behaviours with me any longer, and still create my best work.
Best of all, through all this, I felt excited! Almost disbelief. Fear, definately fear! I worked through all things related to that fear with courage, and self love. I feel, at the end of this, and really throughout this, like I was falling in love with my life again. I had every reason to believe in myself, broke through all the ways I kept myself from creating my future the way I wanted it, didn't accept my own lame exuses, or being a victim to life any longer. I feel free.
So, this was the lead in. Every week we will have a round table discussion where we are prompted with questions, and I will write them here! #bestyear #wequest
If you sign up for my email list, I will let you know when the first week response is written and out! Thanks for reading!